Our mission is to become the provider of choice for all healthcare needs for the residents in the community and surrounding areas by enhancing the customer and patient experience through providing a variety of pharmacy and health related services, products, excellent customer service, and optimal pharmaceutical care.
Established in 1974, Hereford Pharmacy has been providing prescription services and healthcare products to our local community for over 40 years. As the healthcare and pharmacy industries have continued to evolve over the years, Hereford Pharmacy has adapted by implementing services to continue to meet the needs of their patients and customers. Hereford Pharmacy currently operates with three pharmacists with over 50 years of combined experience.
A member of the Epic Healthmart Pharmacy Network, Maryland's largest chain of independent pharmacies, we are proud to be a part of a nationally recognized and leading independent pharmacy chain. At Hereford Pharmacy we offer you the service and reliability of an independent, neighborhood drugstore with the price competitiveness of a chain. At Hereford Pharmacy, we not only fill your prescription needs but also offer you a full selection of over-the-counter medications, healthcare supplies, and products all at value pricing.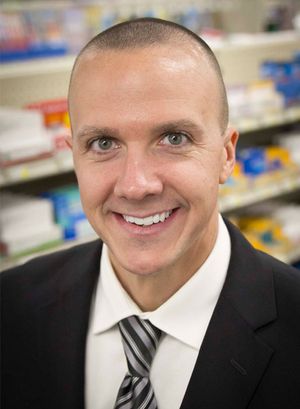 Keith T. Pfaff, Pharm.D.
President/Owner
Keith T. Pfaff graduated from the University of Maryland, Baltimore School of Pharmacy in 2005. During his academic career in pharmacy school, Dr. Pfaff was the Vice President of the National Community Pharmacists Association (NCPA) Student Chapter, inducted into Phi Lambda Sigma in recognition of Outstanding Leadership (2004) and served as Class President from 2003 to 2005. Upon graduation, Dr. Pfaff accepted a position with Walgreens Co. where he was a pharmacy manager for eight years. During his tenure at Walgreens, Dr. Pfaff received the Pharmacy Manager of the Year Award for Walgreens Co. District 276 in 2010.
Dr. Pfaff is also a Clinical Assistant Professor at the University of Maryland, Baltimore School of Pharmacy and at Notre Dame of Maryland University, School of Pharmacy. As a Clinical Assistant Professor, Dr. Pfaff is responsible for training and overseeing student pharmacists during their experiential learning rotations. For recognition of his teaching and inspiration to students, Dr. Pfaff received the Preceptor of the Year award in 2013 from Notre Dame of Maryland University.
In 2013, Dr. Pfaff accepted a position at Hereford Pharmacy where he was promoted to Director of Pharmacy Services and Manager of Store Operations. He was responsible for implementing new pharmacy services and providing personalized care to his patients to ultimately optimize their medication therapy and improve their overall health and well being. In 2020, Dr. Pfaff and his wife, Megan, became the owners of Hereford Pharmacy Inc.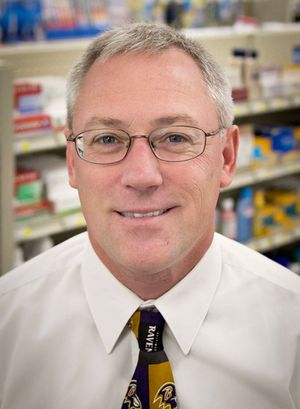 Randy S. Chiat R.Ph.
Staff Pharmacist
Randy Chiat, RPh., a 1990 graduate of the University of Maryland, School of Pharmacy, started his professional career at Revco in Fallston. In the fall of 1992 he started working at Hereford Pharmacy and he states, "the adventure continues." The "family-like, small town feel" has kept him there.
He is a licensed immunizer, certified by the American Heart Association as a CPR provider, and has received certificates of educational achievement in diabetes, hypertension and cholesterol management. He declares there have been many changes during his career, but the most significant was the law that permitted pharmacists to administer vaccines. It allowed an even closer bond with patients which expressed the trust they had in their pharmacists.
A graduate of Loch Raven High School in Towson, he has been a Baltimore County resident for all but the first six months of his life when he lived in the Hamilton area of Baltimore City. He has been happily married since 1994 and has two children.